With over 25 years' experience in the process and oil industries, our company offers clients the most comprehensive service in the purchase or resale of high quality process plants and equipment. Trading globally, operating within the chemical, pharmaceutical, food, mineral, power generation sectors and many other process industries.
Our staff, who have extensive knowledge and experience of all aspects of reusable process equipment including products, applications, materials, refurbishment and modifications, are ready to help you with your process equipment requirements. With our engineering backgrounds we can advise you of solutions for your needs. In addition, our service includes arranging packing, shipping worldwide and handling export documentation.
As a buyer of all types of process plants and equipment, we provide companies with the opportunity to maximise your return on your investment by paying the best possible prices for redundant assets. We will purchase complete plants, whole sites, dismantle equipment and structures, demolish unwanted buildings and remediate contaminated land all to current industry standards for methods and safety. In addition we provide valuations on equipment and will broker equipment for our customers.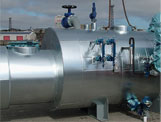 "We have a wealth of knowledge and experience in dealing with all aspects of the business"
Based in Teesside in the North East of England, we are in the heart of the UK chemical process industry, and are well served with excellent transport links by road, rail and air. We also have a major international port facility.
It is our promise to work hard to make sure we provide all our clients with the very best service possible to give maximum customer satisfaction, including very competitive pricing and reliable supply. Our philosophy is to be entirely honest about our capabilities to meet our customer needs.
The services we offer are summarised as follows:
Buying redundant assets to give clients the best possible return on their investments, including equipment, plants and complete sites
Selling a wide range of process equipment from small individual items such as valves to complete process plants and factories. Sourcing specific items for our clients
Valuation/appraisals of process equipment
Brokerage of clients' assets on a consignment basis
Complete plant liquidations
Refurbishing equipment
Equipment removal and dismantling structures
Demolition of redundant buildings
Transport, packing and shipping large items worldwide
Examples of some of the equipment product groups we handle are:
See our stock listing area for the complete list of equipment we buy and sell.
Please contact us to help us fulfil your requirements for process equipment or disposal of unwanted assets.